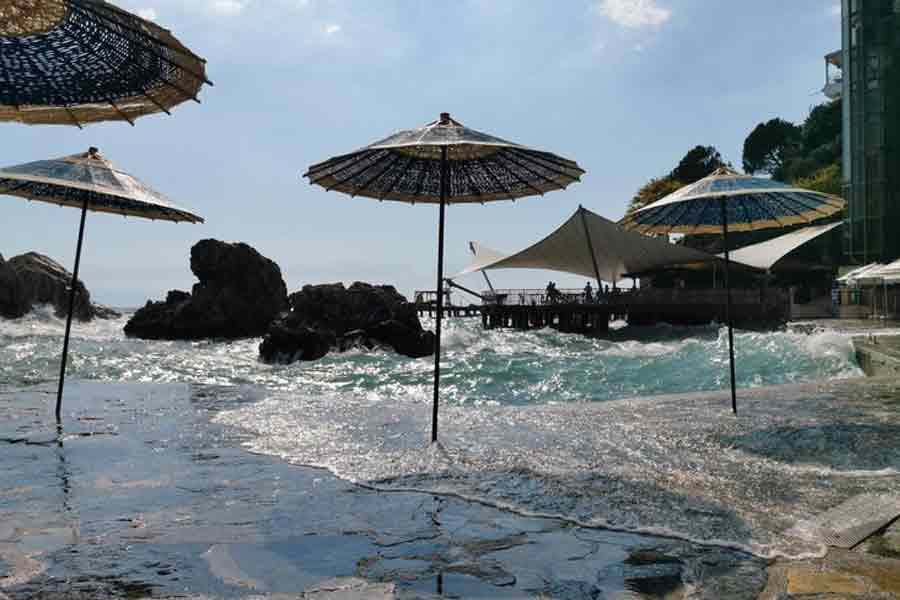 10 Best Things to do in Kusadasi
With its popular beaches and European-style shops and restaurants along the waterfront, Kusadasi is primarily regarded as a resort town frequented by cruise ships and populated by European holiday-goers. But this city on the west coast of Turkey offers the seasoned global traveler plenty to love, including a stunning example of 17th-century Ottoman architecture at Okuz Mehmed Pasha Caravanserai. Apart from the attractions, however, the city's most enticing appeal is its prime location with easy access to some of Turkey's most popular historic and natural attractions.
Take a short ferry ride to the Greek island of Samos, home to Pythagoras and Epicurus, or spend the day lounging aboard the deck of a boat on the Mediterranean Sea. The large set of Aegean ruins at Ephesus—including the House of  Virgin Mary, Basilica of St. John, and Temple of Artemis—lure travelers away from the city, as do the smaller but equally important sites at Priene, Didyma, and Miletus. With so many tours geared to please the cruise passengers coming and going from Izmir Port, finding a streamlined shore excursion to any of these attractions is a breeze. Private tours offer customizable itineraries best suited to your interests, while group tours help you save money on the most popular attractions.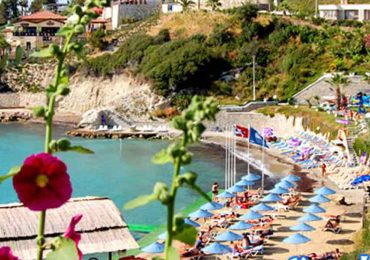 Amazing Things to Do in Kusadasi
1. Enjoy Kusadasi Beaches
Enjoy the sea of Kusadasi in the morning before thermal winds and waves start to form. In the early hours of the day, the sea is very clear.
There are many beaches in Kusadasi that you can enjoy, but if you feel lazier and want to be spoiled, you can also try the beach clubs of Kusadasi.
2. Visit the ancient city of Ephesus and the Virgin Mary's House
A holiday to Kusadasi is not complete without going on a tour to the ruins of the spectacular ancient city of Ephesus and the peaceful Virgin Mary house.
3. Güvercinada (Pigeon Island)
Kuşadası's own historical wonder is a citadel in the bay at the end of a 350-metre causeway.
This defence was built on the orders of Hayreddin Barbarossa (1478-1546), and the low, outer walls date from the Greek Orlov Revolt in the 1770s.
Güvercinada is laid out like a kind of city park, with a raised wooden platform, and excellent photo opportunities from the battlements, gazing back to Kuşadası and its harbour and backcountry.
4. Explore Kuşadası's Old Town
Most of Kusadasi's tourist attractions are found in the harbor area, in the kaleiçi (old town) neighborhood.
The Kervansaray building is an old, preserved caravanserai, built by Öküz Mehmet Paşa in 1618. Its battlemented facade was restored in the 1960s, and for a few decades, it served as a hotel, but now you can wander in to admire the interior.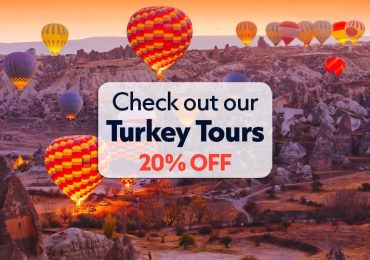 5. Boat Trip
Taking boat trips from Guzelcamli is by far my favorite family activity in Kusadasi.
6. Kusadasi Bazaar
Ambling through the lit-up streets of Kusadasi Bazaar in the night is something you don't want to miss. With a variety of things available at reasonable prices, it is sure to lift every shopaholic's mood up. Consider a heaven for all those who love shopping, this place offers people things ranging from clothes and carpets to ornaments and ceramics. It is one of the best places to visit in Kusadasi at night.
7. Eat in a Turkish restaurant to get a true idea of the delicious Turkish cuisine
Visit Bul Bul, Avlu, Alo24 or one of the many other Turkish restaurants and eat like a local, great food & great prices.

8. Dilek Peninsula-Büyük Menderes Delta National Park
The mountains of this 27,500-hectare national park hover on the horizon south of Kuşadası, and it's a journey well worth making.
The park is made up of a rocky peninsula with Mount Mycale along its spine, while to the south, in a much wetter landscape, is the delta of the Büyük Menderes River.
9. Day Trip to Priene
Hemmed in by mountain vistas, the ruins of the Hellenistic city of Priene, about 40 kilometers south of Kuşadası, are a popular day trip from town and are often combined with a visit to the ruins of Miletus.
Priene was an ancient deepwater port that had its heyday between 300 BCE and 45 BCE, when its two harbors bustled with commerce. The silting-up of the Meander River caused the city's demise, and by the 2nd century CE, Priene was abandoned.
10. Sirince Village – Ephesus on the Hills
Sirince is also called Ephesus on the Hills, and this village is a perfect stop in the summer heat. The town is hidden within the hills, and it is cooler and windier than the sea level.
This village is also visited by millions each year. There are many things to enjoy in Sirince, culture, nature, history, Turkish coffee, and local wines.
Despite being a major travel destination, the town is not that crowded. You enjoy shopping for gifts and eating Turkish breakfast here. The food is very good. If you stay for the night, it is a romantic venue to have dinner with your loved one.