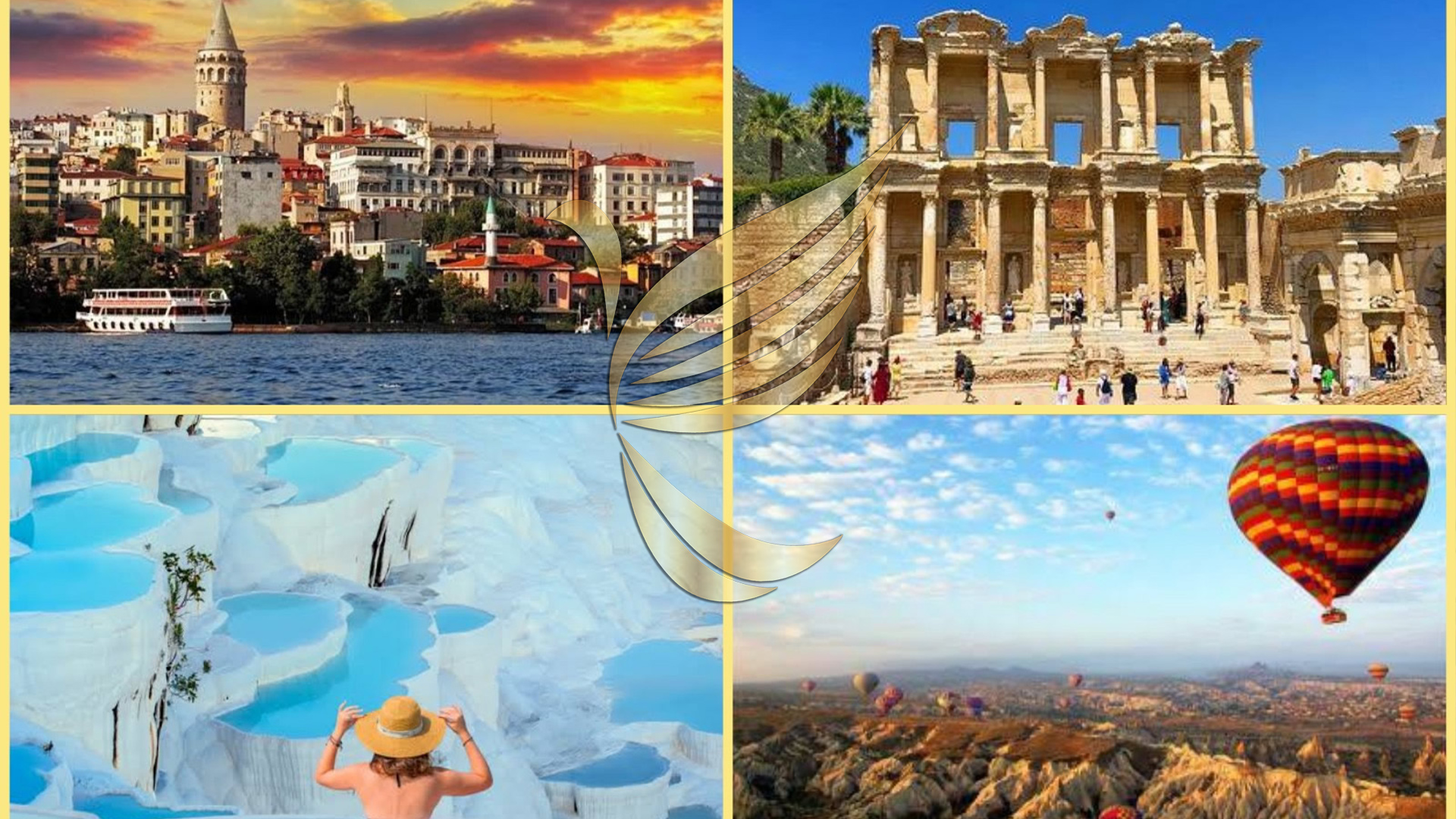 Turkey's Famous Tourist Attractions and Activities
Packed to the brim with ancient monuments left over from a parade of empires, and endowed with showcase scenery that never fails to impress, Turkey could be a dazzling destination that straddles Asia and Europe.
Its vibrant culture, famous food, and vast history wow all who venture here, while its glorious landscapes, from the sun-soaked Mediterranean to the mighty mountains and arid steppe, are tourist attractions in themselves.
Whether you would like to lap the Byzantine and Ottoman glories of Istanbul on a city break, laze on the beach, delve into history wandering through ruins like Ephesus, or see a number of the world's most surreal panoramas in Pamukkale and Cappadocia, this country offers visitors a large range of things to try and do.
Kapali Carsi (Covered Bazaar)
Istanbul is worth visiting for the shopping alone. And also the Kapali Carsi, or "Covered Bazaar", within the old city is that the logical place to start out. This labyrinth of streets and passages houses over 4000 shops. The names recall the times when each trade had its own quarter" Goldsmiths' Street", "Carpet Sellers' street", "The Street of skullcap Makers". Sit down for tea with a number of the sellers and allow them to charm you into buying some souvenirs you never realized you wanted.
Pamukkale
Chances are you'll catch your first glimpse of Pamukalle (translated as "Cotton Castle") on a postcard. Calcium-oxide-rich waters paint this Caldag hillside white, creating a series of Gaudi-like dripping terraces. Try and view this stunning formation early without thousands of individuals crawling everywhere it and turning the white surface dark with foot scum.
Topkapi Palace, Istanbul
One of Istanbul's big draws, this expensive fifteenth-century estate served because the centre for the Ottoman Empire for four centuries and is difficult for many travelers to miss. Among the maze of rooms, you will find inner courtyards, a throne room, a circumcision room and a harem.
Dolmabahce Palace, Istanbul
When the Ottomans moved on from Topkapi Palace in 1853, they decided to make on the Asian side of Bosphorus. It doesn't look as magnificent from the surface, but the opulence within will put even the foremost decorated metropolis lobby to shame. Its also where Kemal Pasha (Turkey's first president) died on November 10, 1938 – if you wish to understand when, just have a look at the clocks, which are set to his exact time of death (9.05am).
Sultan Ahmed Mosque, Istanbul
If you are looking for a smurf-coloured mosque, forget it – it is the blue tilework on the insides that provides this mosque its name. If you would like to steer barefoot across the countless handwoven rugs while marveling at the serenity and architecture, you will not be disappointed by this seventeenth- century Mehmet Aga creation, known locally because the "Sultanahmet Camii".
Ephesus
Walking round the dry stacks of cut stone of Ephesus, it's hard to imagine that it once sat on the Aegean coast, now 8kn away. And even harder to imagine the Temple of Artemis fully glory, when it had been once a Wonder of the planet. The location as a full, however, has been impressively preserved.
Take a Turkish Bath
Nothing scrapes off the travel grime quite sort of a trip to a hammam. These enormous marble steam rooms, often fitted with hot baths, showers and cooling-down chambers, are often found everywhere Turkey. Let a masseuse scrub you with an abrasive mitt and you may see chewing-gum0sized wads of dead skin tumbling off your body. Then he'll pound your muscles to a pulp, crack your joints, and you will emerge feeling sort of a boneless chicken, in an exceedingly great way, of course.
Explore Istanbul's Sewer
Literally translated, Basilica Cistern is that the "Sunken Palace". It's Istanbul's largest underground cistern, naturally air conditioned and renovated for public access. This one-time plumber's nightmare has been atmospherically dolled up – the water dripping from the ceiling is now in the middle of pulsing lights and creepy music.
Sleep in a Very Cave
Head into the Swiss-cheese-like region of Cappadocia and you may find a mind-boggling assortment of caves. A number of these Hitler's dwellings (often called "Fairy Chimneys") are converted into damp youth hostels that provide a pleasant respite from the warmth. You'll also find underground cities and rock churches.
Pick Out an "Evil eye"
Nazar Boncuk, or "Evil Eye" charms as they're commonly known, are cheap and are available in many shapes and sizes: earrings, necklaces, hatpins so on. the miscroscopic blue eye is an old superstition to push back misfortune. Wear one and you may like get a smile from the locals. It is a nice thanks to allow them to know you're fascinated by over snapping pictures of old ladies making carpets. Something they'll enjoy noting while they sell you a teaset, anyway.